Theophilus William CHRISTMAS
M, (1867 - 1904)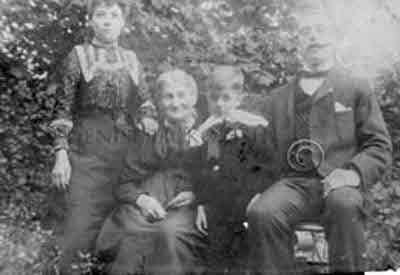 Theophilus William Christmas with wife Rose Son William and Mother Fanny.

Birth*:

Theophilus William

CHRISTMAS

was born on 7 October 1867 at Newington, Surrey.
He was the son of

Theophilus

CHRISTMAS

and

Fanny

BOORN

.

Marriage*:

He married

Maria Rosette

NICHOLSON

, daughter of

Alfred

NICHOLSON

and

Bithiah

BRIDGE

, in June 1896 at Shoreditch Reg district, London.

Death*:

He died on 4 October 1904 at Cottage Hospital, Islesworth, Middlesex, at age 36; died of a haemorrhage into the Peritoneum, caused by an accident. Inquest held on 6th October 1904. Interred at Acton (new) cemetery, in grave no 106 J.G.