Alfred NICHOLSON
M, (1840 - 1900)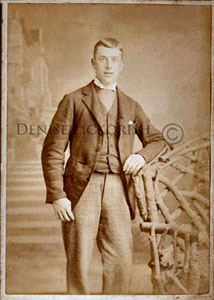 Alfred Nicholson born 1840 died in Australia 1900




Birth*:

Alfred

NICHOLSON

was born on 28 October 1840 at ST PANCRAS OLD CHURCH, London.
He was the son of

Samuel

NICHOLSON

and

Elizabeth

(?)

.

Marriage*:

He married

Bithiah

BRIDGE

, daughter of

Stephen George

BRIDGE

and

Catherine

Hawkins

, on 19 August 1862 at St. Mary, ISLINGTON..

Death*:

He died on 7 August 1900 at Home for Incurables, Fullarton, Adelaide, Australia, at age 59; Age 59, ocupation was Grocer, living at Hindley St, Probably Fullarton Australia. Alfred died from cancer of the bladder at the Home for incurables at Fullarton.