John Albert MACMILLAN
M, (1900 - 1949)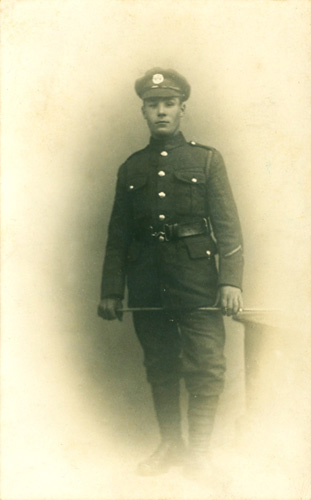 John Albert MacMillan in uniform.

Birth*:

John Albert

MACMILLAN

was born on 5 April 1900 at 8 Buckingham Street, Landport, Southsea, Hampshire; certificate dated 5 June 1914 at Portsmouth
Registrat A. W. Gardner at Portsea and Landport.
He was the son of

John William

MACMILLAN

and

Bithia Elizabeth

NICHOLSON

.

Marriage*:

He married

Lillian

McCABE

in June 1928 at Maidstone, Kent; June qtr 1928 Maidstone 2a 2165.

Death*:

He died on 22 February 1949 at 4 Erskins Flats, Church Lane, Torre, Torquay, at age 48; Occupation Hotel waiter, Bert died of Carcinoma of the stomach, informant was his son John Macmillan.